Adams A1 Selected Bb Trumpet Generation II
Features
*Special Order*
The new A1 has been developed in collaboration with US based trumpeter Trent Austin, and features an all-new valve block, leadpipe, and bell taper. It's a high-end horn with a rich spectrum of overtones and a brighter-than-center sound profile. A wonderful all-around trumpet, with a ringing, brilliant sound that really shines in commercial settings. The scale is super even and the valves matched the highest possible standards.
We designed the original A1 to be a versatile horn for the crossover player. It was the first trumpet in the Adams line and it was a fairly traditional setup. Now the fully redesigned GenII A1 takes full advantage of 7 years of experience in trumpet design and manufacturing to deliver an amazing upgrade over the original A1.
The new valve block is a two-piece block with nickel balusters so you get a good crispness to the core of the horn. Plus the valve block feels great in your hand, with good balance and ergonomics.
The GenII A1 comes standard with a Saturn water key on the tuning slide. We found the horn sounds best with no water key on the third valve slide. The tuning slide bend and bell bow shape give it a really stylish modern look.
Specifications
Bell: Yellow Brass - 126 mm
Bore: ML 11.7 mm
Finish: Satin gold lacquer
Gauge: 0.50
If you would like to configure your own A1 trumpet to your personal preferences, Adams will fully custom build your instrument.
Please see this page for the custom options, and call us at 410-744-1723 to order!
| | |
| --- | --- |
| Model: | ADMA1-II |
| Manufacturer: | Adams |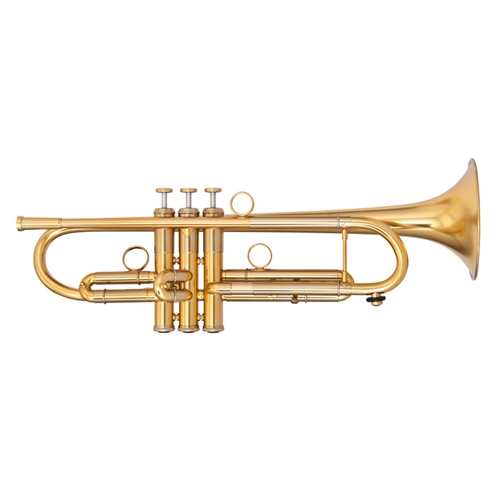 Satin Gold Lacquer
---
Customer Reviews