Top Notch Brass & Woodwind Repairs
We service a diverse and growing customer base, and have adapted our repair shop to accommodate the needs of our customers. When you bring your instrument to us, you are given the option to speak directly with the person who will be completing the repairs on your instrument "in-house."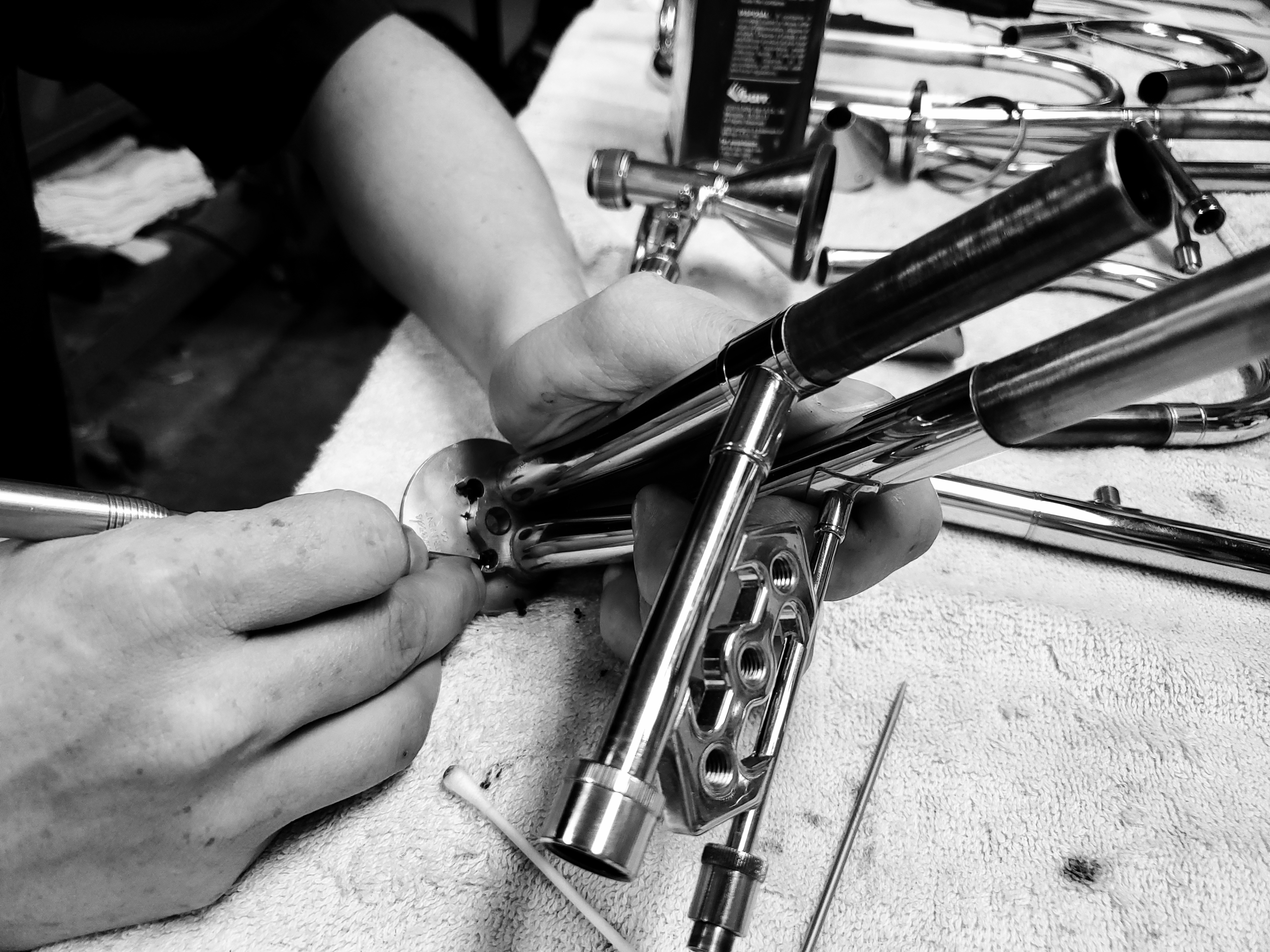 Our repairs are held to the highest of standards and have been touted as some of the most consistent and thorough repairs in the area. We stand by our work and if a repair is not to your liking, please let us know! Our job is not complete until you are happy.
---
Woodwind Adjustments, Repads, & Overhauls
Woodwind instruments are as complex as they are beautiful, and often require small tweaks and tune-ups to keep the instrument in perfect working condition. There are many moving parts which means many different things can go wrong. If your horn isn't operating correctly it could need minor regulation or it may need a full repad or overhaul. We offer free estimates and will recommend the best course of action to keep your horn working smoothly.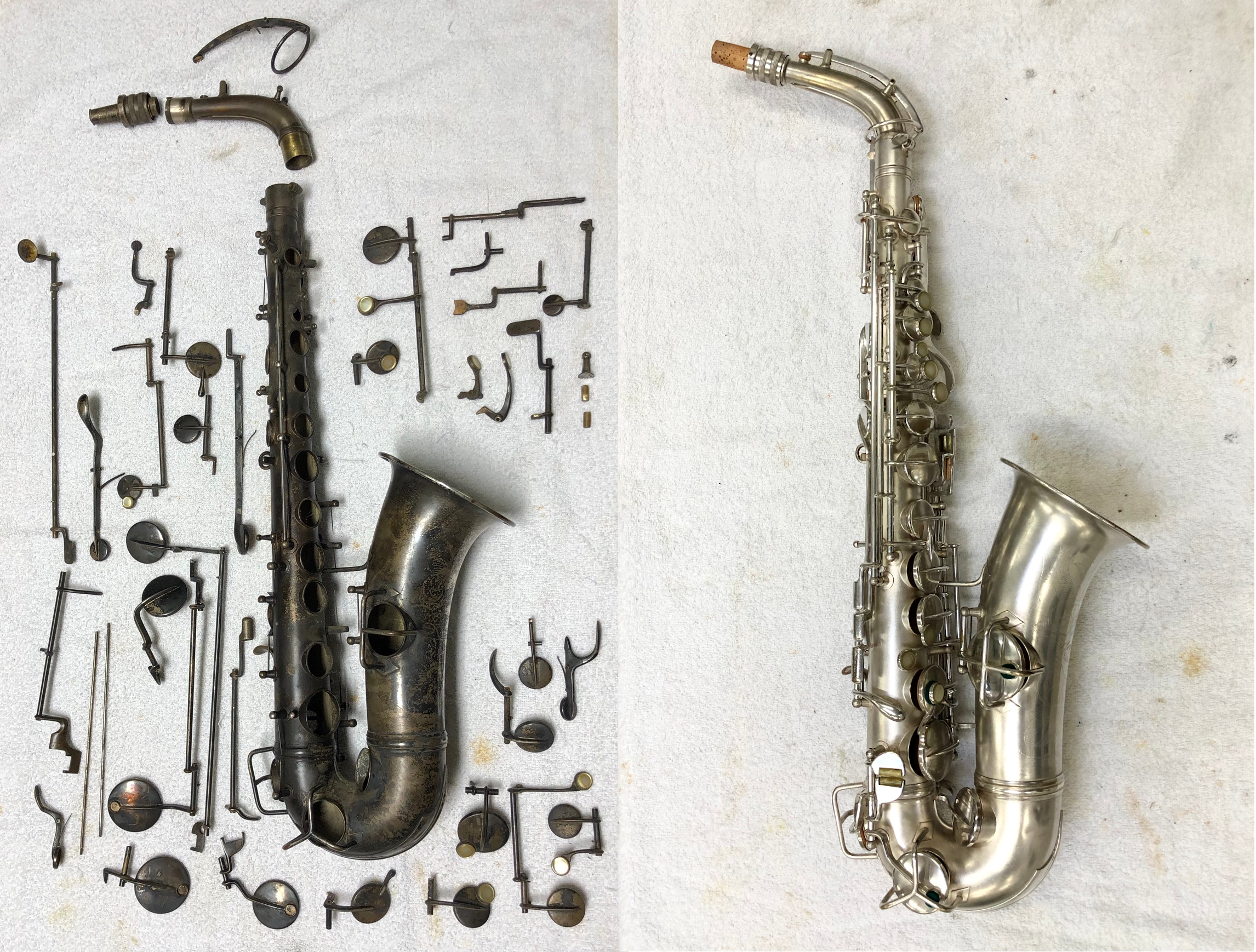 ---
Chemical & Ultrasonic Cleanings
A professional cleaning is one of the most important things one can do to maintain a brass instrument. Like an oil change for your car, it is something that should be done with some regularity to keep your instrument from building up deposits of calcification, which in the long-term can compromise the structural integrity of the brass.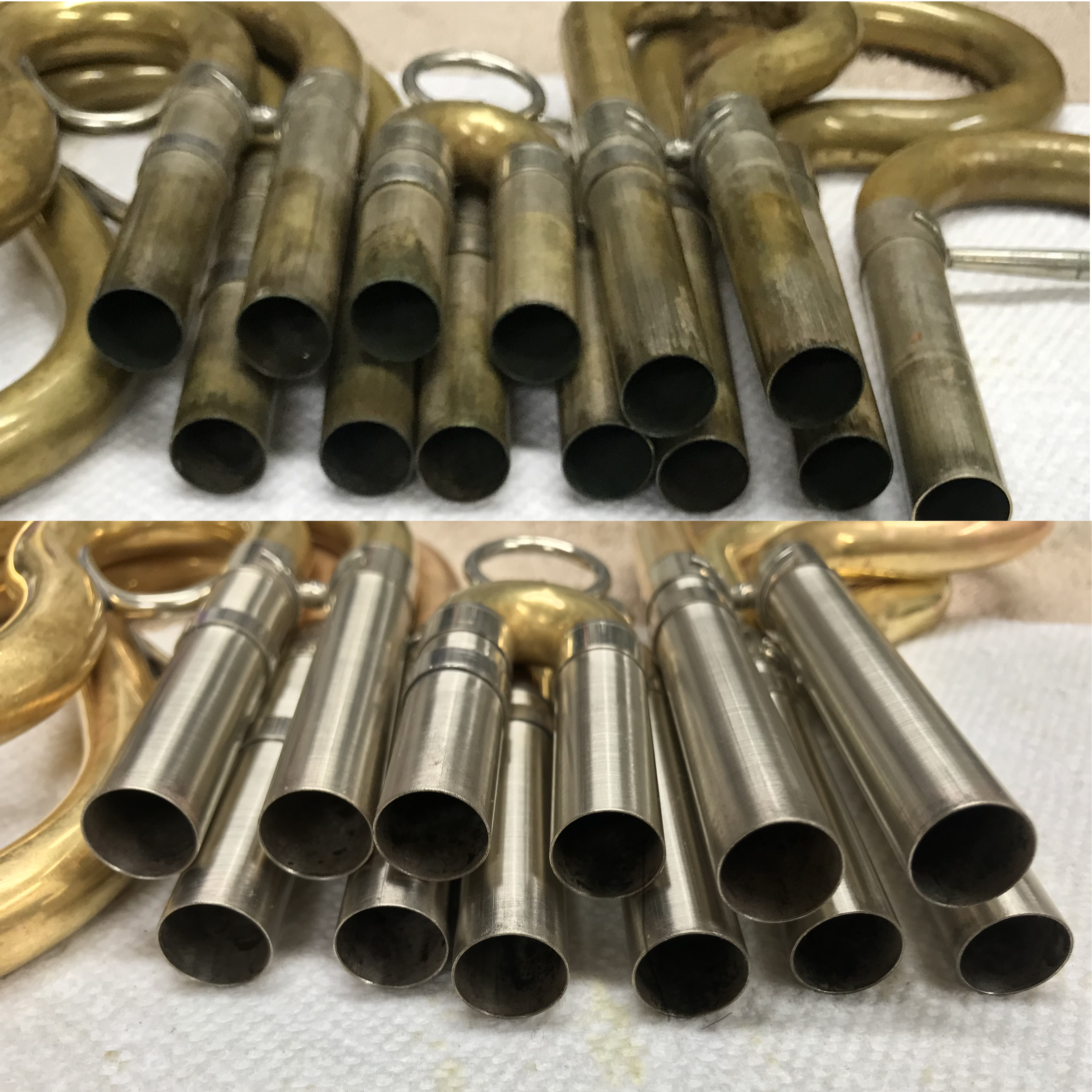 All the cleanings we offer comprise of a complete disassembly of the instrument, followed by degreasing, brushing, and flushing all the tubings of the instrument before finally submerging it in either our chemical or ultrasonic tank. Afterwards the instrument is scrubbed again, neutralized, reassembled, and re-lubricated. All wearable parts are replaced.
---
Chemical or Ultrasonic Cleaning: Which Should I Choose?
Chemical Clean

Our chemical cleaning is the standard cleaning which utilizes an acidic base to remove deposits of calcification. This slows the aging of the instrument and can help to prevent issues like "red rot." This process is safe for brass instruments of any type and age.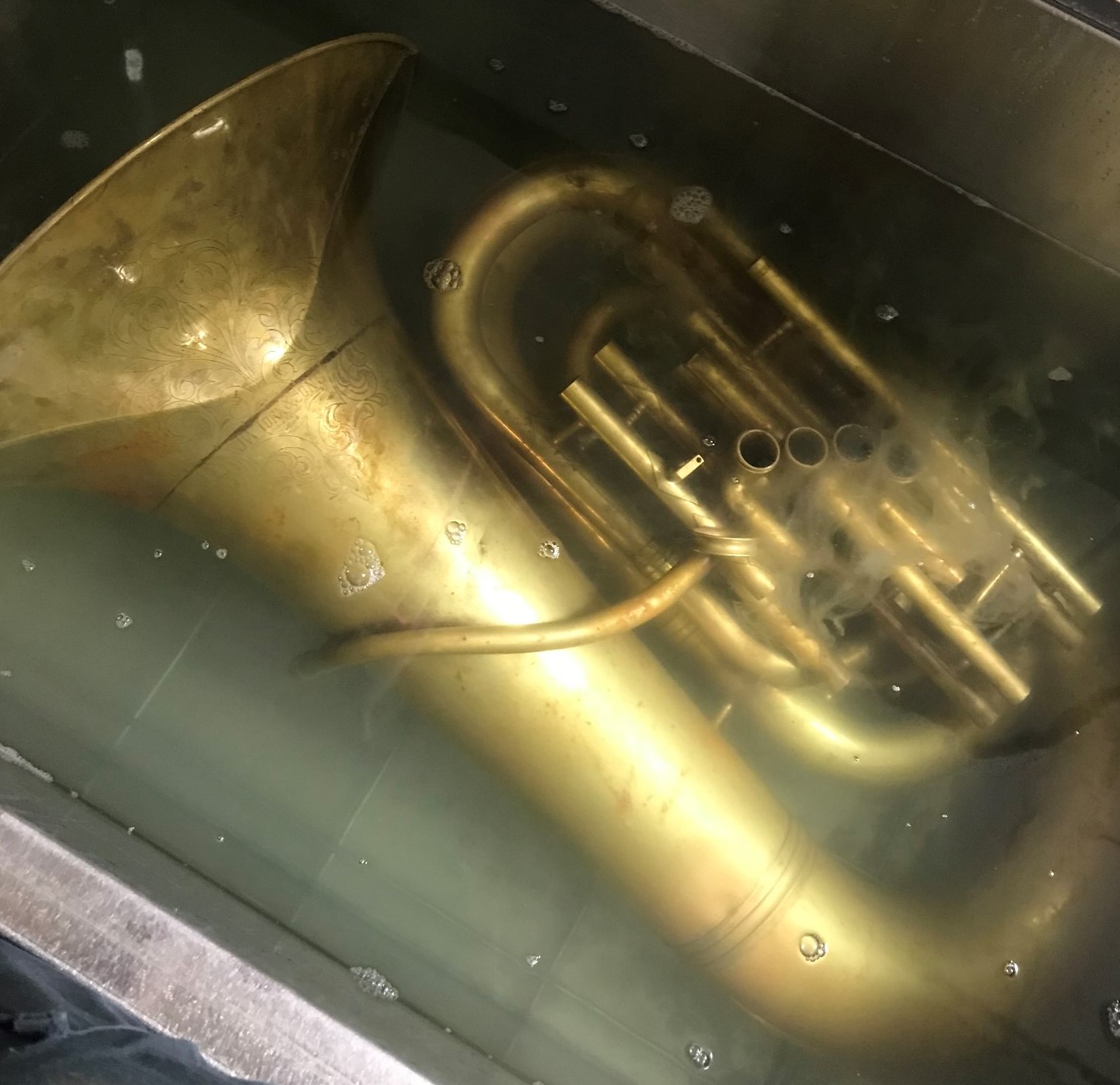 Ultrasonic Clean

Our ultrasonic cleaning is the "latest and greatest" in instrument cleaning technology. The ultrasonic tank utilizes sound waves to knock the calcification loose, relying less on chemicals. Being a more active process, it is not recommended for instruments of significant age.
If you don't know which to choose, the best thing to do is to bring your instrument to us and get a recommendation from one of our wonderful repair techs. You can email our techs here.
---
Dent Removal/Slide Extraction
So you've dropped your instrument; the bell is dented and the main tuning slide is stuck! (It's ok, we've all been there.) First, don't panic. Leave your tools in the toolbox and bring the horn to us. The most careful and handy musician with the best of intentions can cause serious damage to their instrument with a screwdriver and a pair of pliers.
Our repair shop is equipped with specialty tools designed for musical instruments. In addition, our repair techs go through comprehensive training to prepare them for any repair you may need and have many years of experience in the field. We give free estimates, so send an email here with some pictures and we'll let you know what it will cost.
---
Handslide Alignment & Comprehensive Slide Treatment (CST)
Does your handslide move slowly or feel sluggish with fresh lubricant? It is likely that it has some dents or maybe an alignment issue. Our technicians will be able to address your handslide needs, improving the function of the slide.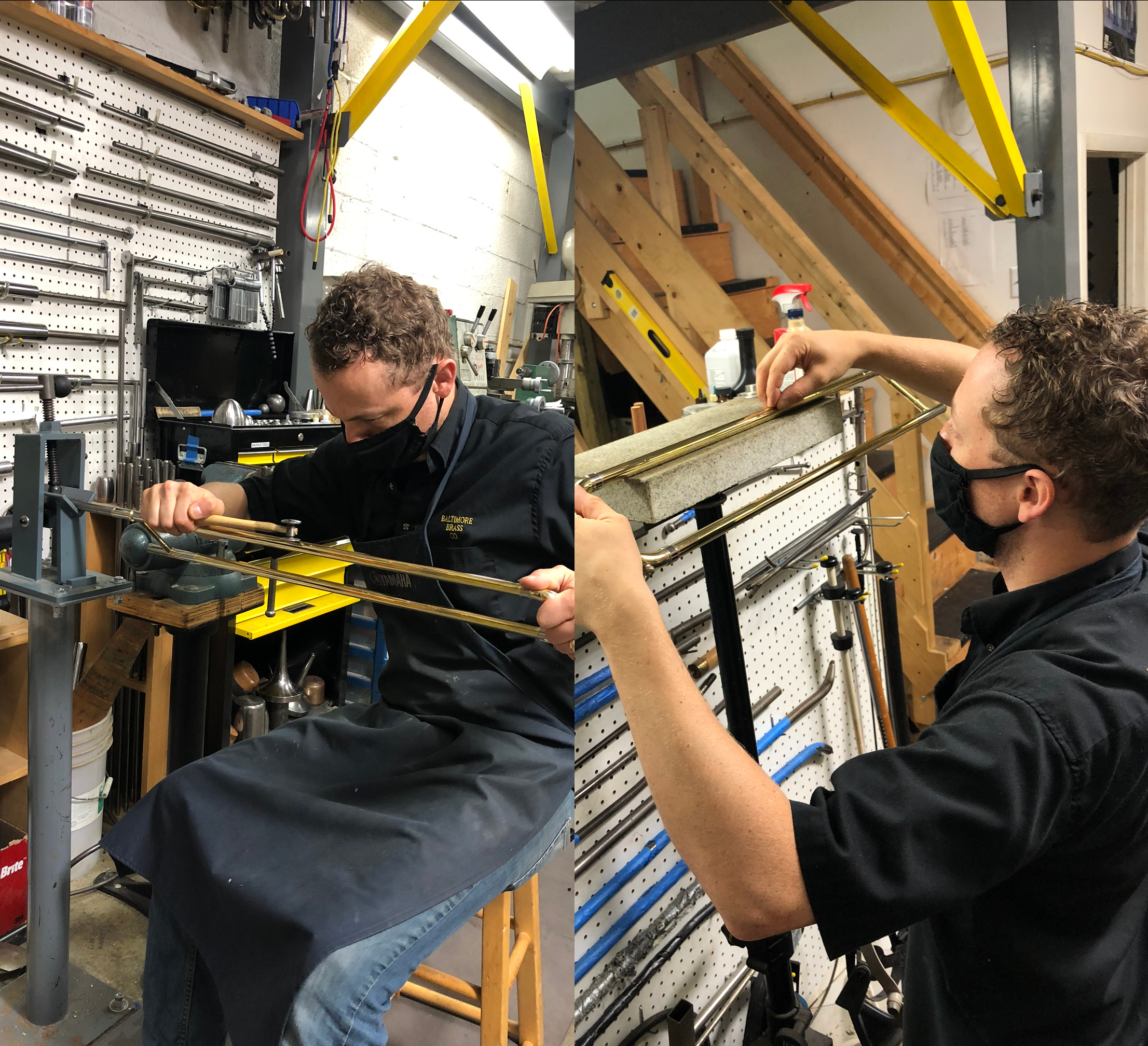 When the standard alignment isn't enough we offer a Comprehensive Slide Treatment (CST). This includes a complete disassembly of both the inner and outer handslide tubes, polish, and a precise alignment setup, which may include removal of dents in the slide or crook.
Note: Not all slides are proper candidates for the CST, and some may not warrant it. Email us here and we can discuss whether or not your slide may benefit from this treatment!
---
Custom Work
Our shop is equipped to handle just about any custom project you could think of. Most of these fall into one of two categories: "ergonomic" or "functional".
"Ergonomic" customization is any repair that makes your instrument fit you better. These customizations generally make your instrument easier to hold which can be a serious help to anyone that experiences playing-related aches and pains.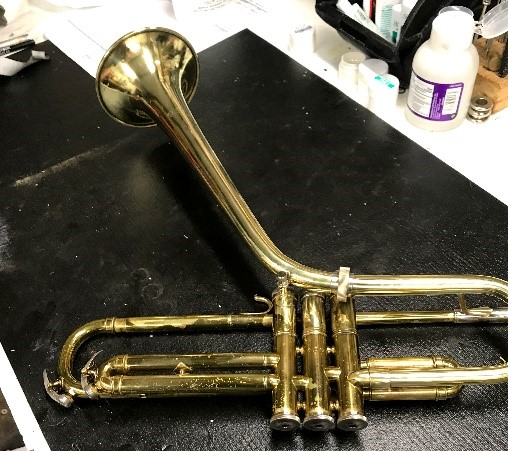 "Functional" customization refers to any repair that adds or expands on what the instrument is capable of doing. Things like tuning mechanisms, valve conversions, and many more would fall into this category.
Curious as to what our shop can do? Email or call us with your custom project and we will work with you to make it a reality!
---
Part Fabrication
Baltimore Brass' repair technicians are also able to fabricate parts to fit an instrument you have, however obscure or uncommon it may be. Their close attention to detail will make it so that you'll never know those parts aren't original to the horn! Give us a call or send us an email with any inquiries about customizing your horn with fabricated parts you can't find elsewhere.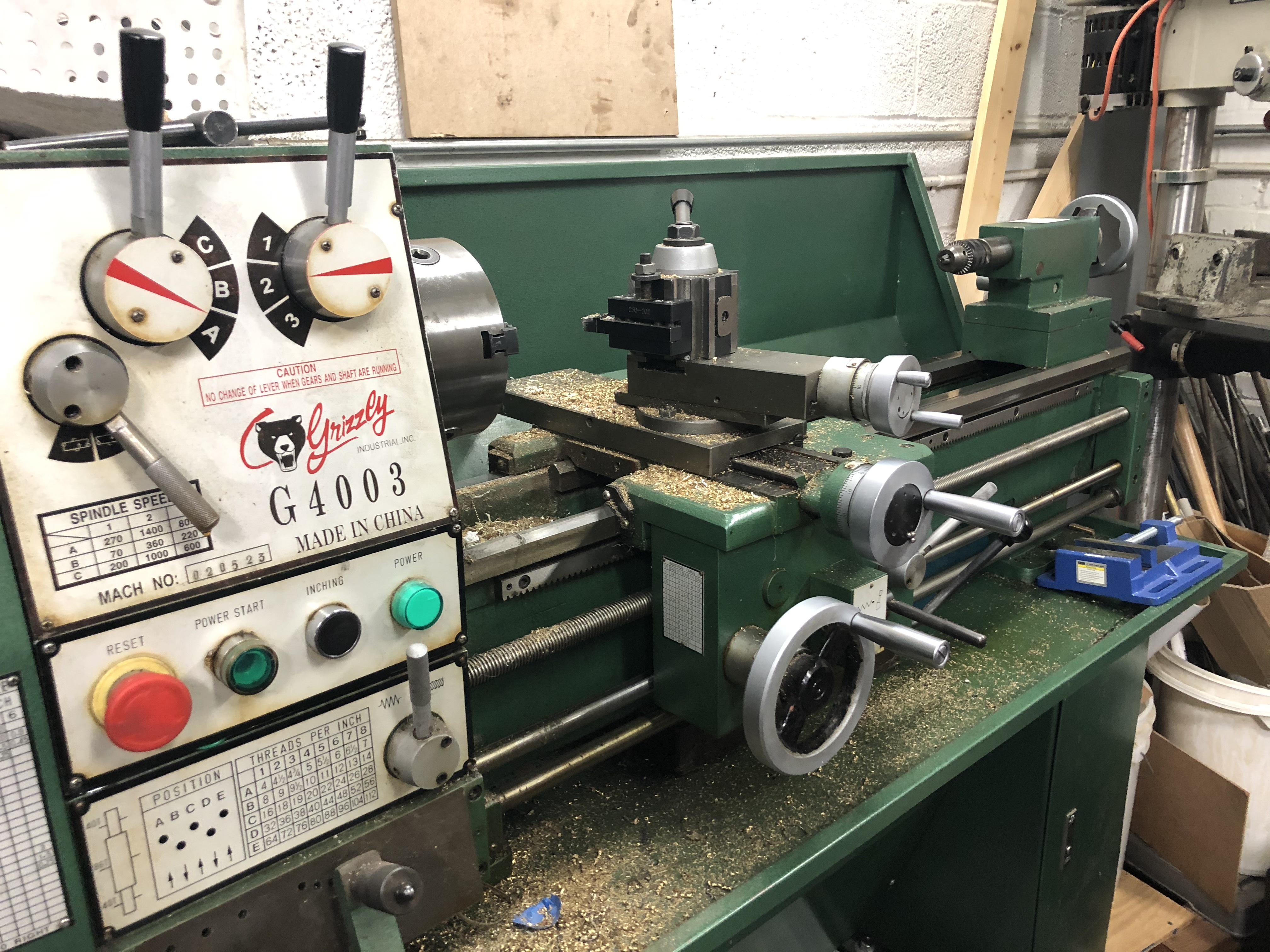 ---
Gallery